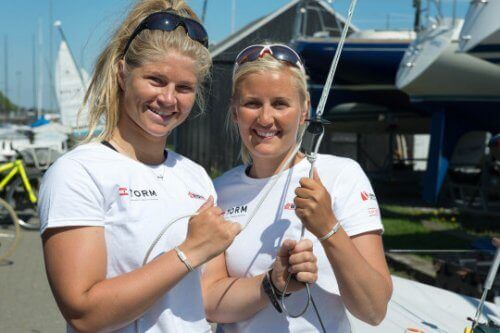 Katja (tv) og Jena (th)
Scroll down for English version
Vi er meget stolte af at kunne præsentere et par nye stærke nots-ambassadører.
Jena Mai Hansen (styrmand) og Katja Salskov-Iversen (gast) er professionelle sejlere. Siden deres samarbejde startede i 2011, har de kæmpet for at blive de bedste og sejlet tusindvis af træningstimer. Timer, sved og ihærdighed, der betaler sig, da de nu ligger i toppen af verdensranglisten og bl.a. har vundet sølv ved Princess Sofia Cup i marts i år, og kæmpede sig til EM Guld i april, og måske endnu vigtigere – klarede det benhårde udtagelsesforløb og sikrede sig pladsen som Danmarks 49erFX-repræsentanter ved OL i Rio.
En medalje om halsen ved OL i 2016, har hele tiden været deres mål – og der er de, lige nu, i gang med træningen op til OL i august.
Jena og Katja sejler 49erFX, og det er første gang OL-publikummet kan opleve en high performance båd for kvinder. 49'erFX er kvindernes version af mændenes 49'er, og er en high performance jolle, som kan nå op på en rigtig høj fart, og som kræver en enorm koncentration, og en rigtig god fysik.
Jena og Katja sprudler af liv, glæde, ambition og styrke, og vi er meget stolte af at have dem med som ambassadører.
Kig forbi notsbyheckmann.dk og læs mere om Jena og Katja og hvorfor, de har valgt at være nots-ambassadører. På teamets egen hjemmeside, kan du læse meget mere om deres resultater og planer, og du kan følge deres træning på deres facebook-side.
Kære Katja og Jena. Vi hepper på jer! Giv den gas med træningen & tak fordi, I er med ombord.
– Vibeke
ENGLISH VERSION
We are very proud to present some new strong nots ambassadors.
Jena Mai Hansen and Katja Salskov-Iversen are professional sailors. Since their collaboration started in 2011, they have fought hard to be the best and sailed thousands of training hours. Hours, sweat and persistence that pays off, as they're now in the top of the world rankings and recently won silver at the Princess Sofia Cup in March this year and Gold at European Championships in April and – perhaps more importantly – managed the tough selection process and secured their position as Denmark's 49erFX representatives at the Olympics in Rio.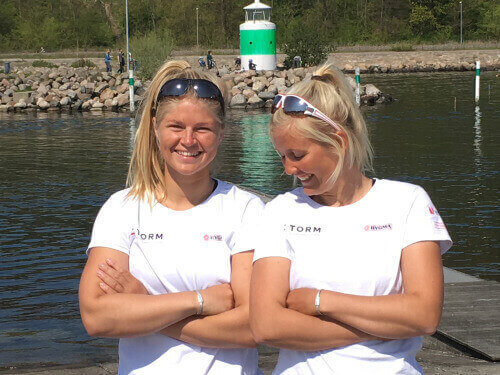 Katja to the left, Jena to the right.
A medal around the neck at the Olympics in 2016 has always been their goal – and they are in Brazil right now training for the Olympics in August.
Jena and Katja sails a 49erFX and it is the first time an Olympic audience can experience a high performance boat for women. 49erFX is the women's version of the men's 49er, and is a high performance dinghy, which can reach a very high speed and requires an enormous concentration and a great physique.
Jena and Katja are full of life, joy, ambition and strength, and we are very proud to have them as ambassadors.
Please visit notsbyheckmann.dk and read more about Jena and Katja and why they have chosen to be nots ambassadors. On the team's own website, you can read more about their results and plans, and you can follow their training on their facebook page.
Dear Katja and Jena. We are cheering for you! Good luck with the training & thank you both for being on board.
– Vibeke
Follow us
on facebook, Instagram and read more on notsbyheckmann.dk