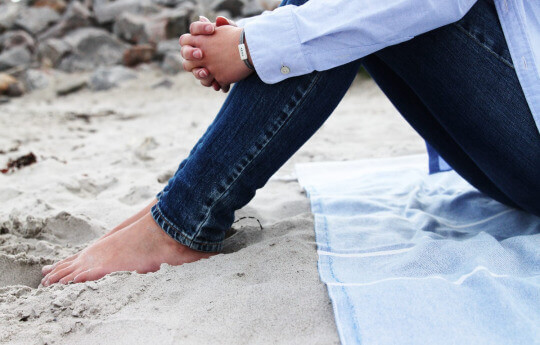 Scroll down for English version
Vil du dele din historie?
Vi deler løbende historier fra stærke mænd og kvinder, der har et nots-armbånd. Enten ét de har fået, eller et de har givet sig selv. Fælles for alle historierne er, at de dækker over deres tanker om det gode og vigtige i livet, og om hvordan deres nots-armbånd passer ind i den ligning. Vi vil gerne sige tusind tak til jer, der har delt jeres historier og tanker med os andre. Det er vi meget taknemmelige for.
Vi har fået mange henvendelser omkring historierne og flere af vores facebook-venner har også skrevet direkte i kommentarfeltet, at historierne inspirerer dem. Dejligt! Det er lige dét, vi så gerne vil sætte i gang – at du som læser får lyst til at deltage og dele det positive, som historien giver dig.
Vores drøm er, at vi sammen får bygget et stærkt netværk af nots-indehavere, som har lyst og overskud til at give noget positivt videre til andre. Og at vi finder modet til at dele ud af vores egne personlige historier til inspiration for andre.
Katja fra Mikkelborg beskriver det så fint i sin historie: "Når jeg møder et andet nots-armbånd i byen, er det som at være en del af noget meget større – en fælles forståelse eller måske en fælles opmærksomhed, som er ganske enestående."
Måske kan netop din historie være med til, at et andet menneske vælger at tage sine udfordringer op, får sagt dét han/hun ikke har fået sagt til sine kære, eller noget helt tredje.
Hvis vi kan hjælpe hinanden til at se mulighederne, tænke positivt og dele vores oplevelser både på godt og ondt, er jeg overbevist om, at det vil have en vidunderlig smittende og positiv effekt.
Så derfor … Kære nots-indehaver. Vil du dele din historie? Så vil vi rigtig gerne høre fra dig.
Sådan gør du
Vi vil gerne bede dig reflektere lidt over, hvad der er vigtigt for dig og svare på spørgsmålene herunder. Dine svar vil blive gennemskrevet til en lille historie og vist på nots by heckmanns facebook-side. Og hvis du har andre tanker, du gerne vil dele, er de også meget velkomne.
1) Fornavn, alder, by, land
2) Hvad synes du, er vigtigt i livet?
3) Hvad betyder dit nots-armbånd for dig?
4) Hvem har du fået det af? Hvorfor?
5) Hvis du kunne give et armbånd til én – hvem skulle det så være og hvorfor?
6) Andet, du gerne vil dele?
Send dine svar til os på info@notsbyheckmann.dk – og har du spørgsmål, kommentarer, tanker eller andet er du også meget velkommen til at skrive til mig, inden du sender dine svar.
Jeg glæder mig til at høre fra dig.
– Vibeke
ENGLISH VERSION
You & your nots bracelet
Want to share your story?
Over the past year we've been sharing the stories of some of the strong nots owners out there. The stories cover their thoughts about the good life, what's important in life, and how their nots bracelet fits into that equation. It's been very inspiring for us, and our followers, and I'd like to say thank you to all of you for sharing your stories and thoughts with us.
Our dream is that we – together with all of you – will build a strong network of nots owners who have the wish and energy to give something positive to others. And that we all find the courage to share our personal stories as an inspiration for others.
Katja from Mikkelborg in Denmark describes it very well in her story, "When I meet another person with a nots bracelet in town, it's like being part of something much bigger – a common understanding and a shared focus. It's something quite unique."
It might be your story that helps someone else make a difficult decision, tackle a challenge, say what they haven't yet told their loved ones, or something entirely different.
If we help each other to see the possibilities, think positive and share our experiences, both the good and the challenging, I'm convinced that it will have a wonderfully contagious and positive effect.
So, dear nots owner. Do you want to share your story? If yes, we would love to hear from you.
What to do We'd like you to take some time and reflect on what is important to you and then answer the questions below. Your answers will be written into a little story and shared on our facebook page. If you have any other thoughts you'd like to share, they are more than welcome.
1) First name, age, city, country
2) What do you think is important in life?
3) What does your nots bracelet mean to you?
4) Who gave it to you? Why?
5) If you could give a bracelet to a person – who would it be, and why?
6) Anything else you'd like to share?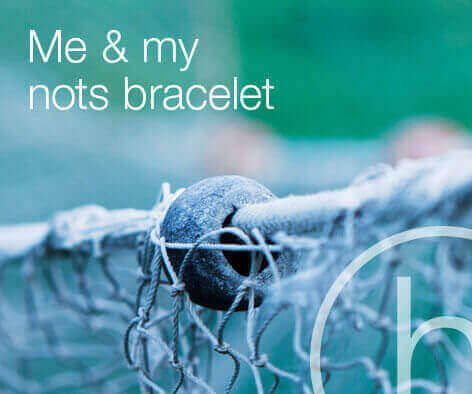 Send your answers to us at info@notsbyheckmann.dk – and if you have questions, comments, or thoughts before answering you're more than welcome to email me.
I look forward to hearing from you.
– Vibeke
Follow us
on facebook, Instagram and read more on notsbyheckmann.dk